-A Taste of Local Cuisine-
Breakfast ・Restaurant
A pleasant morning starts with a good breakfast.
Kick-start your day with our delicious local cuisine!
Breakfast is the most important meal of the day. At Hokke club, we prepare a variety of local dishes and Japanese/Western-style dishes to ensure a pleasant start to your day.
---
Breakfast buffet
BREAKFAST
Start your day with a rich and delicious breakfast.
Try our signature dishes and other regional cuisines, as well as our Japanese/Western-style buffet.
Our popular Japanese/Western-style buffet includes local dishes such as "Kamakura vegetables" and "Kamakura Happosai". Enjoy the start to your day with our selection of dishes.
※ The contents may vary depending on the season
※ The restaurant is only available for our staying guests
Information
Location

Hotel 1F

Price (tax included)

Adult 1,100 yen

Time

7:00〜10:00
(Please come before 9:30)

Number of seats

26 seats in total
Treat yourself to our local cuisine at Almont Hotel!
Whether you are traveling for sighteeing purposes or for business purposes, trying the local cuisine is one of the greatest pleasures of traveling.
Our breakfast buffet provides guests with the best regional ingredients.
We also change our menu every 2 months!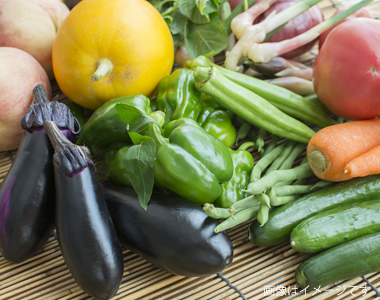 Kamakura vegetables
Grown in the soil of Kamakura, containing the mineral components of the sea and mountains, Kamakura vegetables are produced almost pesticide-free and are characterized by their overwhelming flavor. It is a brand of vegetable different from Kyoto vegetables.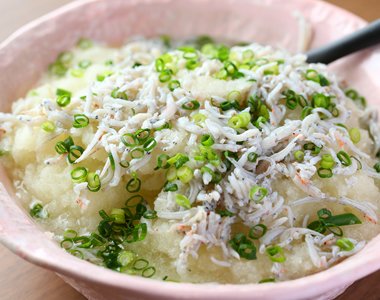 Kama-age shirasu
Fresh Shirasu is boiled with salt. The white and plump fried rice is excellent together! Even as it is, please try a bite before pouring the soy sauce on the delicious fried cauldron Shirasu.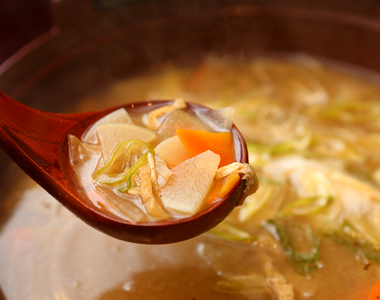 Kenchin soup
It is a Japanese vegetable soup prepared using root vegetables and tofu. Typical ingredients include tofu, burdock root, daikon radish, shiitake mushrooms, konnyaku, taro root, sweet potato or potato, carrot, dashi stock, sesame oil, and seasonings. This home-cooked dish will warm your body and mind!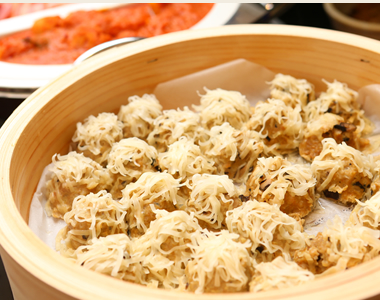 Handmade steamed
The gravy of pork meat is sweet, and the skin is pleasant to touch. Freshly steamed, please be careful.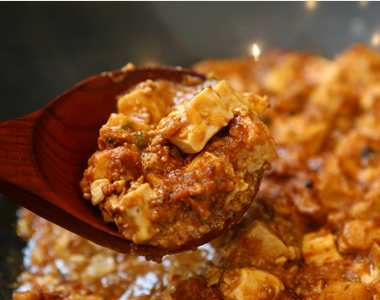 Yokohama mabo
It is a dish that favorise the appetite by adding the flavor of tofu and ground meat to the richness of sweetened soy sauce. The elegant aroma and stimulation of the pepper accent.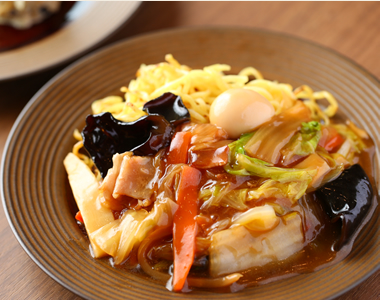 Kamakura happosai
This is a dish made with Happosai (combination stir fry), which contains plenty of freshly picked vegetables from Kamakura.
The chicken soup with the delicious taste of vegetables is a very popular Chinese dish.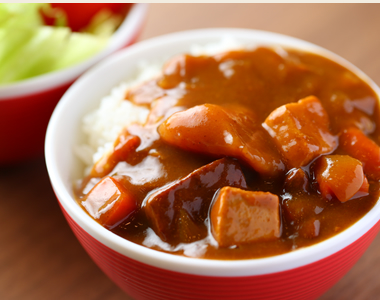 Misaki Maguro Curry
Curry using the maguro (tuna) from "Misaki" area. It is popular because it is easy to eat even in the morning.
If you eat it with white rice, it is a dish that is nutritious and powerful to start your day!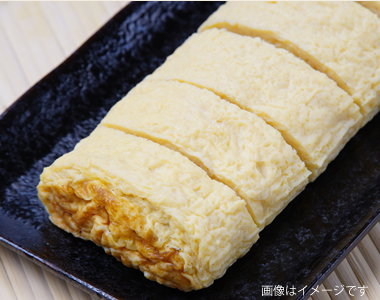 Gyunabe Dashi-Maki
Put an egg in the beef pot and grilled it softly.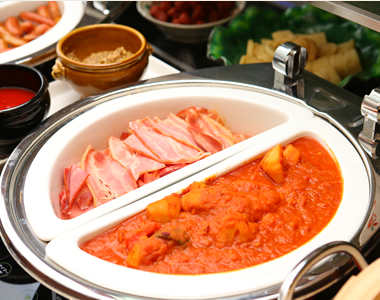 Ratatouille
Ratatouille using Kamakura vegetables such as onions, zucchini and eggplants. With many vegetables, it is delicious and good for the health! Please eat it with bread and pasta.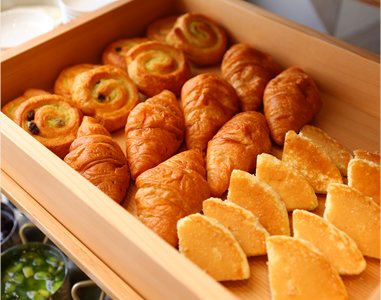 Wide Selection of Breads
We provide a variety of different breads, including rolls and croissants. Our mini croissants and chocolate bread are especially popular with our guests.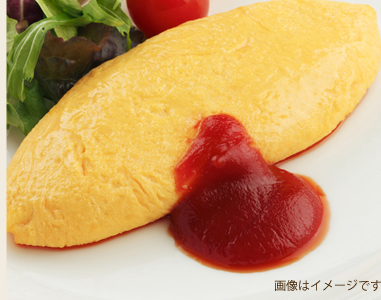 Egg dishes (omelets, etc.)
Have a healthy morning with delicious egg dishes such as fluffy omelets!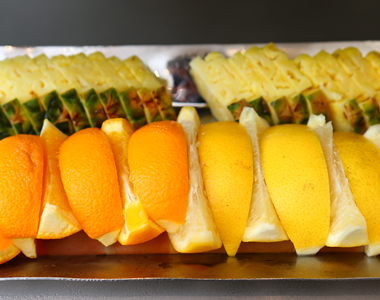 Variety of fruits
Start a healthy day with fresh and delicious fruits and vitamins.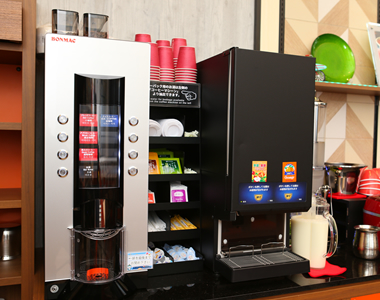 Drinks (Orange juice, coffee, etc.)
We offer a variety of drinks that are perfect for the morning
For Guests with Food Allergies
---
At Hokke Club Group, for breakfast, lunch, and dinner, allergenic ingredients such as (egg, milk, wheat, shrimp, crab, buckwheat, and peanut) and non-allergenic ingredients are prepared in the same kitchen, using the same utensils, oils etc. We may not be able to respond to certain allergy requests. We appreciate your understanding.
We offer a wide variety of breakfast including Japanese, Western, Chinese food, drink bar and dessert. The menu is not only centered on Shonan and Fujisawa specialities but also the local cuisine from Kanagawa prefecture.
※ Breakfast is only available for our staying guests.
Information
Breakfast

7:00〜10:00
(Please come before 9:30)

Number of seats

26 seats in total