-A Taste of Local Cuisine-
Breakfast ・Restaurant
A pleasant morning starts with a good breakfast.
Kick-start your day with our delicious local cuisine!
Breakfast is the most important meal of the day.
At Hokke club, we prepare a variety of local dishes and Japanese/Western-style dishes
to ensure a pleasant start to your day.
Breakfast buffet
BREAKFAST
Start your day with a rich and delicious breakfast.
Try our specialty dishes from Fukuoka and other regional cuisine. As well as our Japanese/Western-style buffet which includes desserts and drinks.
Our popular Japanese/Western-style buffet includes regional dishes like "spicy walleye pollack" and "Hakata chicken based hotpot". Enjoy the start to your day with a wide selection of dishes.
※ The contents may vary depending on the season
※ Restaurant is only available for our staying guests
Information
Location

1F Restaurant "Lotus"
※Only available for our staying guests

Price (tax incld.)

1,320 yen (tax incld.)


※From breakfast on October 2, 2021, the breakfast fee will be revised from 1,320 yen to 1,430 yen.

Operating hours

6:30~10:00
(Please come before 9:30.)

Number of seats

80 seats total
Local Cuisine
LOCAL CUISINE
Treat yourself to our local cuisine!
Whether you are traveling for sighteeing purposes or for business purposes, trying the local cuisine is one of the greatest pleasures of traveling.
At Hokke Club, we provide our guests with a breakast buffet full of regional ingredients. We also change our menu every 2 months!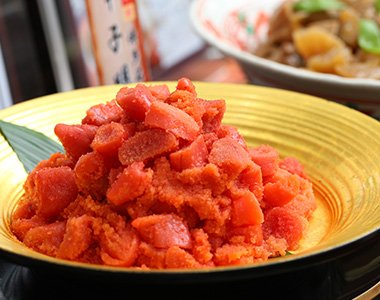 Spicy Cod Roe
Spicy and delicious. Perfect with a bowl of rice.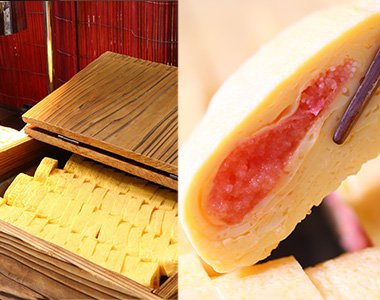 Cod Roe Omelet Roll
Cod roe inside a fluffy omellette roll. A popular local dish of Fukuoka. Taste the tangy flavor of cod roe inside a delicious egg roll made with broth.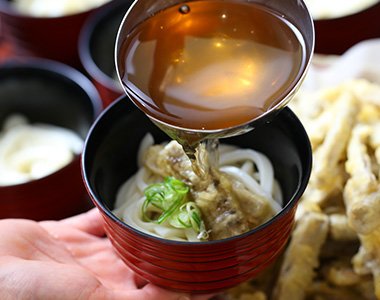 Burdock Tempura Udon
Udon with dried sardine based broth. The softness of the noodle is what makes this udon unique to Hakata.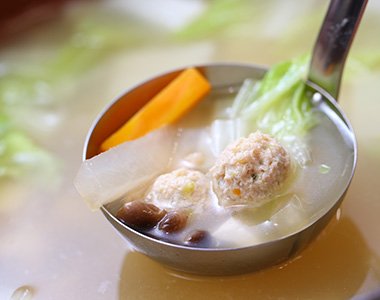 Hakata Chicken Based Hotpot
Ingredients such as chicken and vegetables are simmered in a pot. Popular with our women guests. Includes plenty of collagen, which is known for its skin benefits.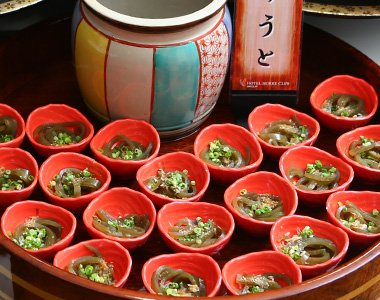 Okyuto Seaweed Noodles
Made from a type of seaweed call egonori, which grows in the sea of Japan.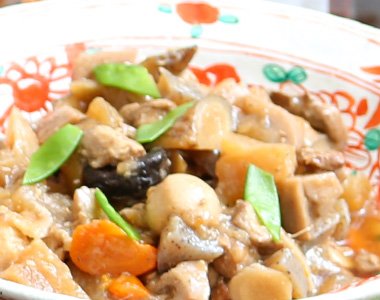 Gameni
Simmered root vegetables with chicken. A staple dish of Fukuoka.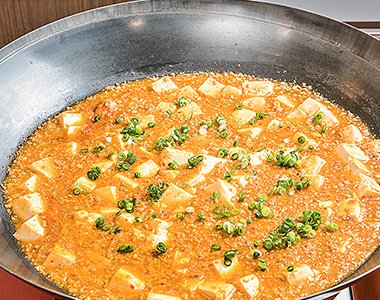 Mapo-tofu
Mabo tofu made with Itoshima "Raiyama Pork". Taste the sweetness of the meat with the tangy flavor of mapo.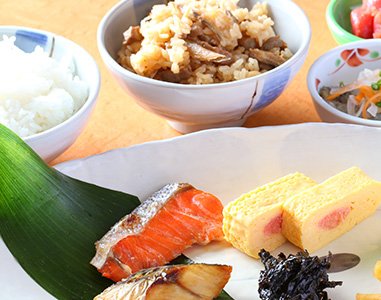 Japanese-style Menu
We serve a wide range of specialty dishes from Kyushu, including salmon and pickled vegetables.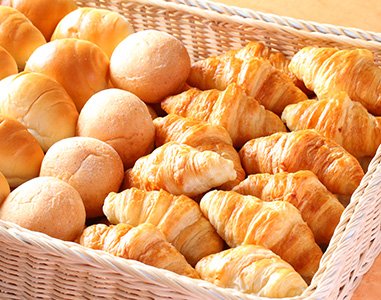 Variety of Breads
We provide a variety of declicious breads, including rolls and croissants.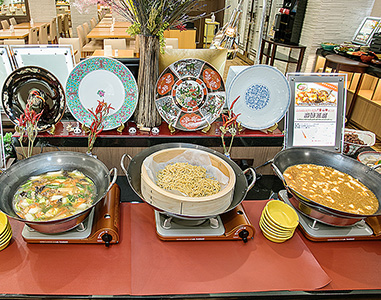 Chinese-style Menu
We offer eight treasures and mapo tofu made from meat and vegetables from Fukuoka prefecture.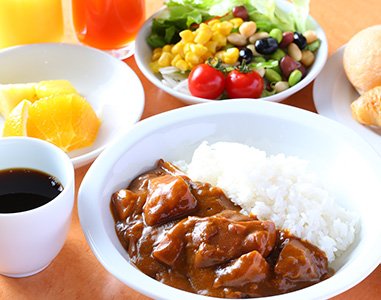 Western-style Menu
Try a variety of popular Western-style dishes. We serve scrambled eggs, sausages, bacon, french fries and much more.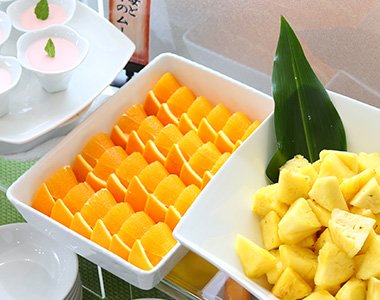 Variety of Fruits
We provide a variety of different fruits.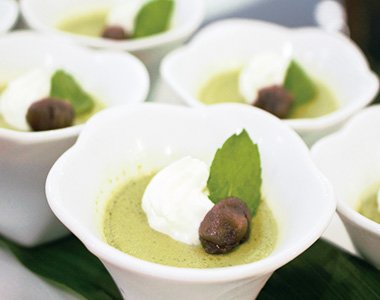 Yame Tea Pudding
Green tea pudding made with Munakata egg.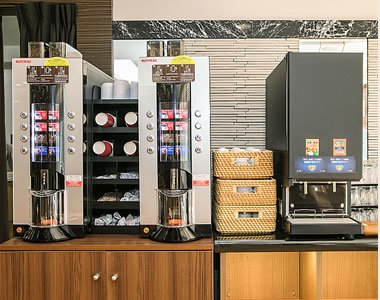 Drinks
Choose from a variety of drinks including freshly brewed coffee, tea, vegetable juice and much more.
For Guests with Food Allergies
---
At Hokke Club Group, for breakfast, lunch, and dinner, allergenic ingredients such as (egg, milk, wheat, shrimp, crab, buckwheat, and peanut) and non-allergenic ingredients are prepared in the same kitchen, using the same utensils, oils etc. We may not be able to respond to certain allergy requests. We appreciate your understanding.