-A Taste of Local Cuisine-
Breakfast ・Restaurant
A pleasant morning starts with a good breakfast.
Kick-start your day with our delicious local cuisine!
Breakfast is the most important meal of the day.
At Hokke club, we prepare a variety of local dishes and Japanese/Western-style dishes
to ensure a pleasant start to your day.
Breakfast buffet
BREAKFAST
Start your day with a rich and delicious breakfast.
Try our specialty dishes from Fukuoka and other regional cuisine. As well as our Japanese/Western-style buffet which includes desserts and drinks.
Our popular Japanese/Western-style buffet includes regional dishes like "spicy walleye pollack" and "Hakata chicken based hotpot". Enjoy the start to your day with a wide selection of dishes.
※ The contents may vary depending on the season
※ Restaurant is only available for our staying guests
Information
Location

1F Restaurant "Lotus"
※Only available for our staying guests

Price (tax incld.)

1,430 yen (tax incld.)

Operating hours

6:30~10:00
(Please come before 9:30.)

Number of seats

80 seats total
Local Cuisine
LOCAL CUISINE
Treat yourself to our local cuisine!
Whether you are traveling for sighteeing purposes or for business purposes, trying the local cuisine is one of the greatest pleasures of traveling.
At Hokke Club, we provide our guests with a breakast buffet full of regional ingredients. We also change our menu every 2 months!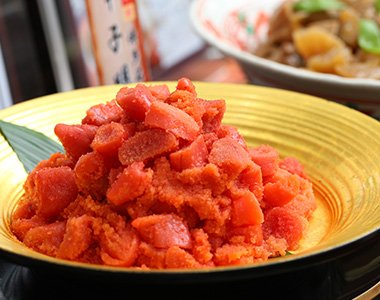 Spicy Cod Roe
Spicy and delicious. Perfect with a bowl of rice.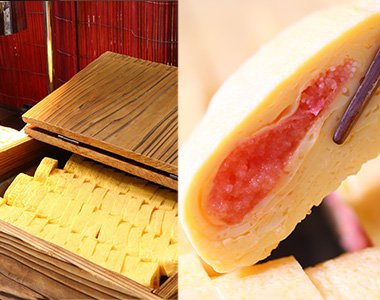 Cod Roe Omelet Roll
Cod roe inside a fluffy omellette roll. A popular local dish of Fukuoka. Taste the tangy flavor of cod roe inside a delicious egg roll made with broth.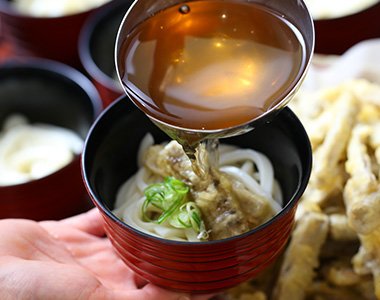 Burdock Tempura Udon
Udon with dried sardine based broth. The softness of the noodle is what makes this udon unique to Hakata.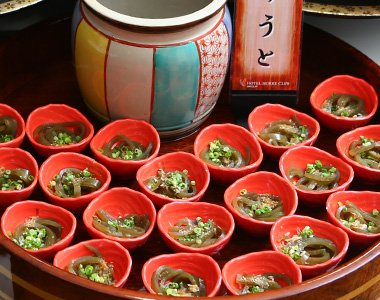 Okyuto Seaweed Noodles
Made from a type of seaweed call egonori, which grows in the sea of Japan.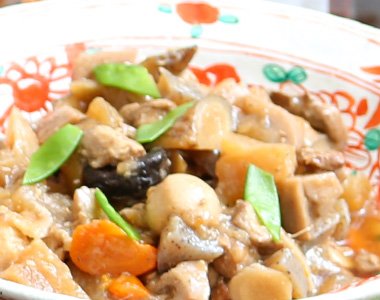 Gameni
Simmered root vegetables with chicken. A staple dish of Fukuoka.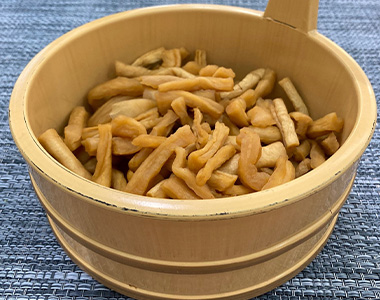 Hakata kobukobu
It's a bit like the old-fashioned "Takuan", but the texture is a little different. You can enjoy a delicate texture that is different from crispy and crispy.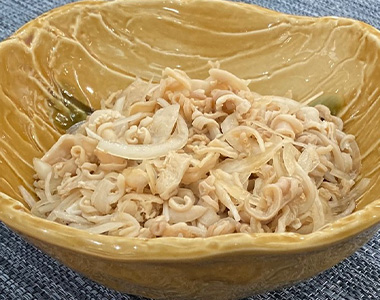 Vinegar offal
More than motsunabe, Hakata kid uses "vinegar offal" as a side dish for sake. It is a standard menu of many izakaya as well as offal pot shop.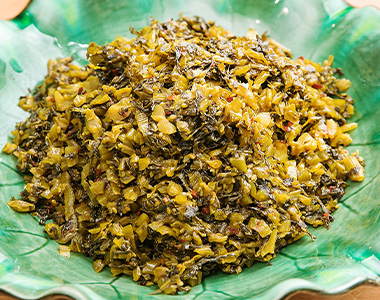 mustard greens
Japan's three major pickled vegetables! It is a standard topping of Hakata ramen, but there are many other arranged dishes such as fried rice and mentaiko.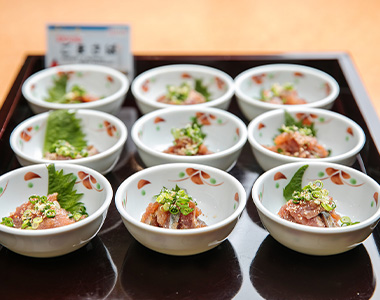 Gomasaba
The Nagahamasengyo Market in Fukuoka City boasts one of the highest catches in Japan, and the amount of mackerel in the market is so large that it ranks second in the country.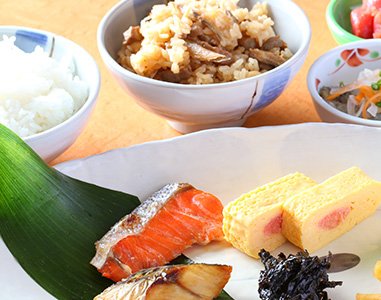 Japanese-style Menu
We serve a wide range of specialty dishes from Kyushu, including salmon and pickled vegetables.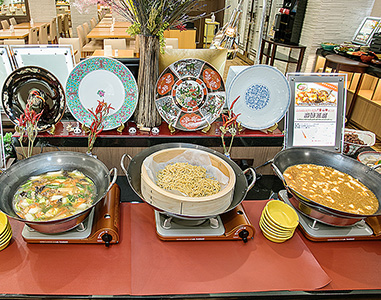 Chinese-style Menu
We offer eight treasures and mapo tofu made from meat and vegetables from Fukuoka prefecture.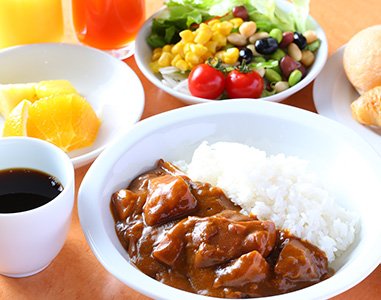 Western-style Menu
Try a variety of popular Western-style dishes. We serve scrambled eggs, sausages, bacon, french fries and much more.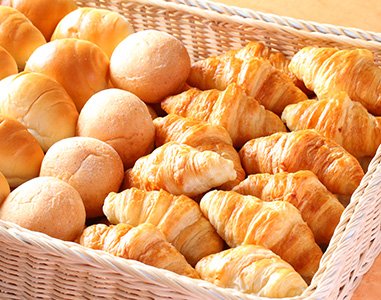 Variety of Breads
We provide a variety of declicious breads, including rolls and croissants.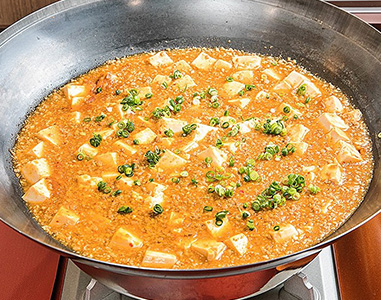 Mapo doufu "made with Raizan pork" in Itoshima City, Fukuoka
Mapo doufu "made with Raizan pork" in Itoshima City, Fukuoka. This dish is tangy and spicy, with the sweetness of the meat spreading through the dish.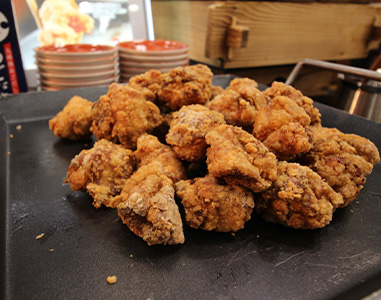 Deep-fried chicken in broth of sardine
Made with Hakata's specialty, "chin broth". Seasoned only with "Agodashi", it is a simple yet tasty fried food.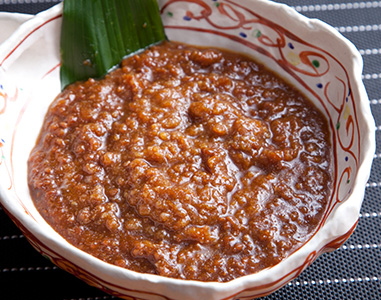 Handmade pork miso
This sweet dish is made by slowly simmering meat with miso, mirin, and sugar from Kyushu. It is a popular breakfast menu item at Hokke Club Kagoshima.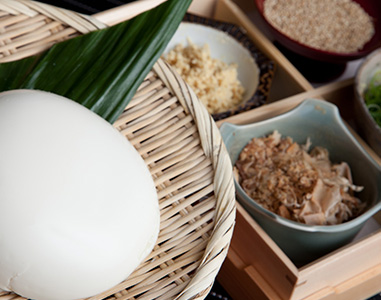 Handmade tofu
It is delicious as is, but can also be arranged with mentaiko , akamoku, or pork miso.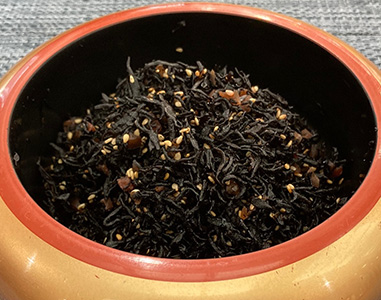 Ume hijiki
The aroma of ume goes perfectly with hijiki! You can enjoy the ume and hijiki as is, or pour it over rice for an even richer aroma.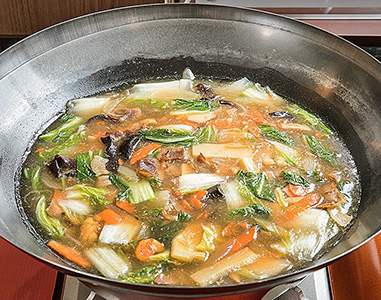 Happousai
It is delicious on its own, but can also be enjoyed over rice in a Chinese bowl or over Chinese noodles in a bowl of noodles.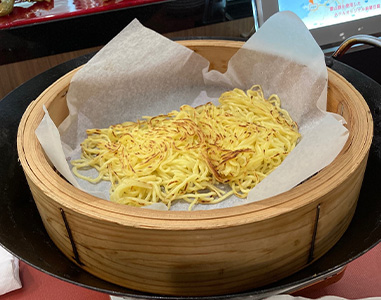 Champon noodles
Sprinkle with mapo tofu or Happousai and enjoy.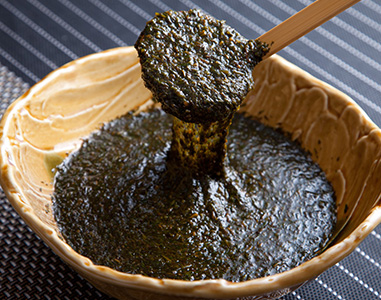 Akamoku
Fucoidan, a sticky ingredient, is one of the best in seaweeds! It is a food rich in minerals, polyphenols, calcium, etc.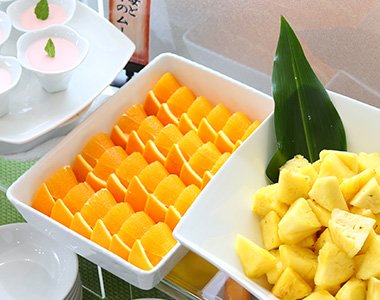 Variety of Fruits
We provide a variety of different fruits.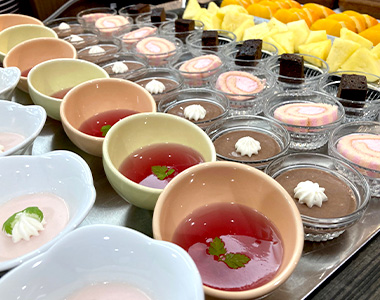 Various desserts
A variety of homemade puddings, jellies, fruits, and cakes are also available.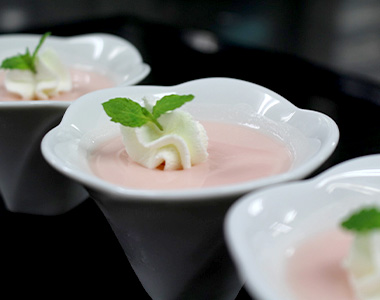 Strawberry pudding using Amaou
The third local pudding festival.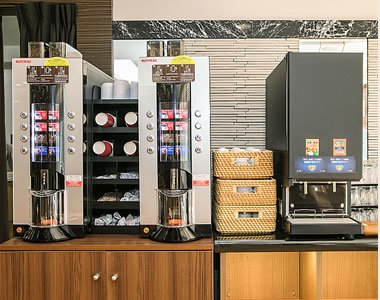 Drinks
Choose from a variety of drinks including freshly brewed coffee, tea, vegetable juice and much more.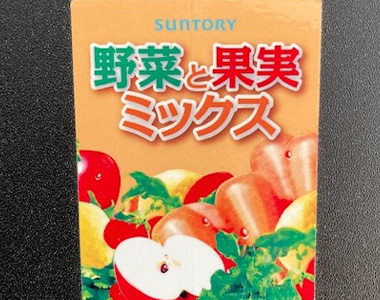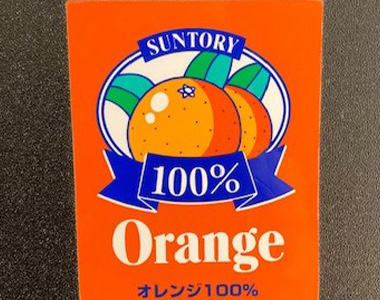 For Guests with Food Allergies
---
At Hokke Club Group, for breakfast, lunch, and dinner, allergenic ingredients such as (egg, milk, wheat, shrimp, crab, buckwheat, and peanut) and non-allergenic ingredients are prepared in the same kitchen, using the same utensils, oils etc. We may not be able to respond to certain allergy requests. We appreciate your understanding.