-A Taste of Local Cuisine-
Breakfast ・Restaurant
A pleasant morning starts with a good breakfast.
Kick-start your day with our delicious local cuisine!
Breakfast is the most important meal of the day. At Hokke club, we prepare a variety of local cuisines and Western-style dishes to ensure a pleasant start to your journey.
Breakfast buffet
BREAKFAST
Start your day with a rich and delicious breakfast.
Try our signature dishes and other regional cuisines, including our Japanese/Western-style buffet.
Our popular Japanese/Western-style buffet includes menus such as Ishikari Soup (Ishikari-style salmon miso soup) and Zangi (Hokkaido-style deep-fried chicken). Enjoy the start of your day by choosing from a variety of dishes.
※ The contents may vary depending on the period.
※ The restaurant is only available for our staying guests.

Information
Location

1st floor of our hotel

Price (tax included)

1,540 yen / 880 yen (children) / Free for children below Elementary school

Number of seats

120 seats total
Local Cuisine
LOCAL CUISINE
Treat yourself to the taste of our regional cuisine.
Whether you are traveling for sighteeing purposes or for business purposes, trying the local cuisine is one of the greatest pleasures of travleing.
Our breakfast buffet provides guests with the best regional ingredients.
We also change our menu every 2 months!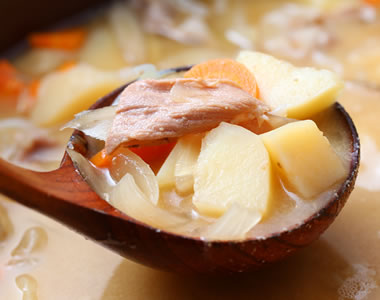 Ishikari soup
Local Ishikari-style salmon miso soup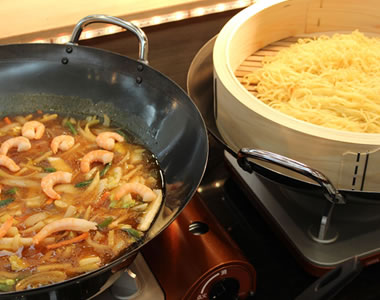 Fried Noodles Topped with Starchy Sauce
Sauce served with plenty of vegetables and seafood.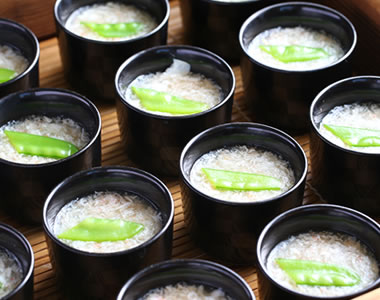 Snow Crab 'Ankake Chawanmushi'
Served with crab meat, and ginger infused broth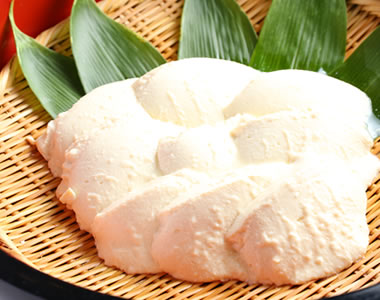 Tofu
Home-made tofu, using carefully selected soybeans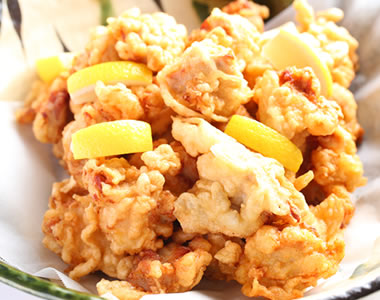 Zangi
Deep-fried chicken, carefully marinated in our original sauce.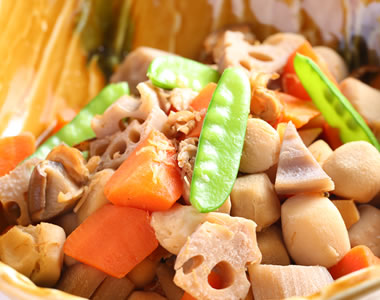 Chikuzen-ni
Local stew unique to Hakodate, served with scallop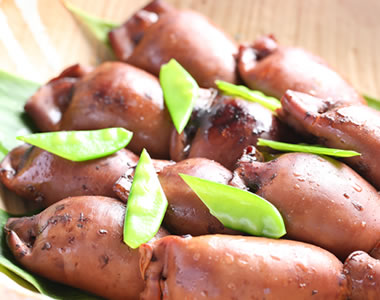 Ika-meshi
Squid stuffed with sticky rice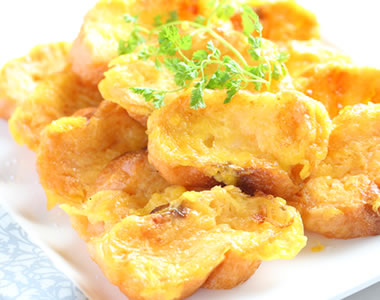 French Toast
Our chef's special dish, made using 100% Hakodate milk.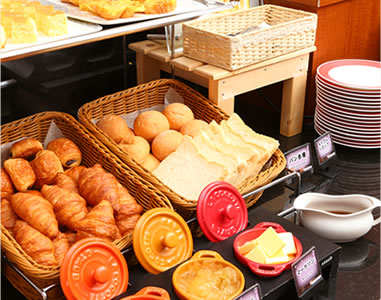 Wide variety of breads
We bake our breads every morning inside the hotel. Enjoy the taste of our freshly baked breads.
Hokkaido Cream Stew
Cream stew made from Hakodate milk and fresh Hokkaido cream. A specialty dish served with plenty of fresh vegetables.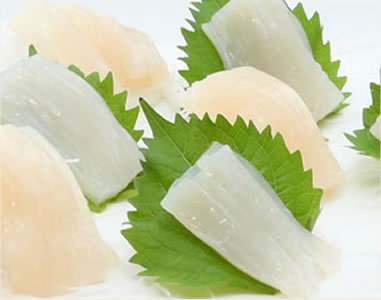 Squid Sashimi
We serve squid directly caught in Maihama, Hakodate. The squid is momentarily frozen on the boat. Enjoy with soy sauce, and a touch of ginger or wasabi.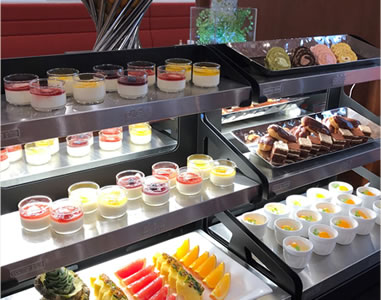 Dessert corner
Our dessert's are placed on a cooling table to be served chilled. Try our popular pudding and other items from our regularly updated menu.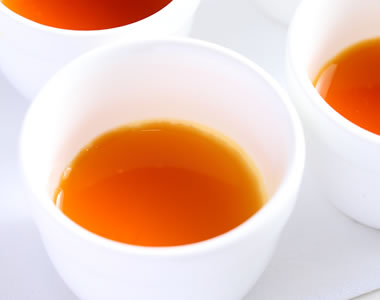 Our Chef's Specialty Pudding
Made with Hakodate milk and fresh cream.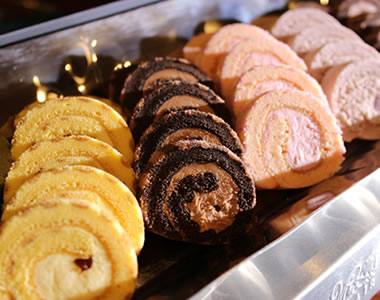 Assortment of Cakes
Enjoy our mulitcolored rollcakes with a cup of freshly brewed coffee.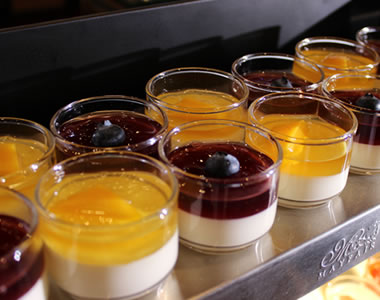 Bavarian Cream Mousse
We serve strawberry, mango, and blueberry flavors.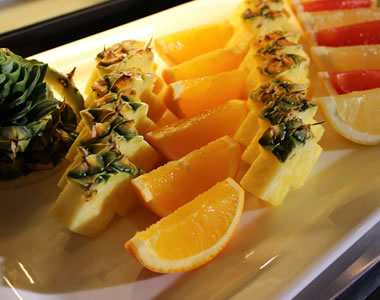 Seasonal Fruits
As a source for your daily vitamins. Try our seasonal fruits.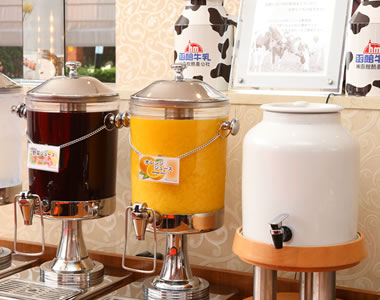 Variety of Drinks
We also provide self-service drinks. Try our 'Hakodate Milk', also used in our cuisine.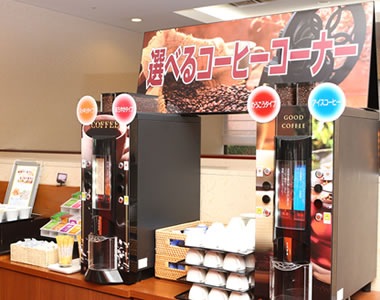 Drip Coffee
Choose coffee beans to your liking, and enjoy a freshly brewed cup of coffee. We also serve 2 types of black tea, and 3 types of flavor tea.
Guests with Food Allergies
---
At Hokke Club Group, we do our best to accommodate guests with food allergies. We take requests for allergenic ingredients such as (egg, milk, wheat, shrimp, crab, buckwheat, and peanut); for breakfast, lunch, and dinner. We carefully prepare the food in the same kitchen, with separate utensils, oils etc. Please note that we do not take individual allergy requests.
Enjoy our well-balanced and lavish lunch buffet.
Our buffet's western-style dishes are especially popular with our local guests. Our desserts are also popular with many of our female guests. We take group reservations of up to 50 people. We also provide large buses.
Reservation may not be possible depending on the booking situation of that day. Please give us a call.

Information
Price (tax incld.)

Adults 1,500 yen/ Children 800 yen/ Infants 500 yen

Dining Hours

11:30~14:30(L.O. 14:00)

Closed

Every Monday
At Hokke Club Hakodate, we serve dinner buffet every Friday, Saturday, and Sunday.


We serve over 30 types of Western/Japanese/Chinese dishes. All-you-can eat! (including dessert) ※Our dinner buffet ends on March 31st.
Information
Price (tax incld.)

Adults 2,500 yen/Children 1,500 yen/ Infants 500 yen (over 3)/Seniors 2,000 yen (over 65)

Dining Hours

17:30~21:00(L.O. 20:30)

Closed

Every Monday ~ Thursday (Held every Friday, Saturday, Sunday)
We serve an assortment of items, including local dishes. Kick-start your day with our lavish buffet.
※ Breakfast is only available for our staying guests.
Information
Breakfast

6:30〜10:00
(Please arrive by 9:30)

Number of Seats

120 seats total